Our Learning
Our Learning & Actions for 2017-18
What will 'patience and time' look like in the classroom?
The school community (students, teachers and parents) will need to interpret the meaning of our new focus, both in the school-wide and individual context and to find practical applications and behaviours to support it.
As this is a very recently-identified focus, we are in the beginning stages of our inquiry. Our preliminary discussions have brought some possible inquiry questions to mind:
What is the primary purpose of taking more time and having more patience with our learning?
How does taking more time for learning connect to the new curriculum?
Will more time allow for deeper learning?  Will students connect their learning to a bigger context?
Will taking more time help students transfer their learning to other contexts?
How does our scheduling affect the time we have for learning?
Are there parts of our day that could be better used?
Is there a way to plan that will allow us to have a better focus and gain time for learning?
How does the classroom setup and environment support patience and time?
How can we help our students to have more patience with their learning?
How can we as educators have more patience with our students' learning?
Is more collaboration time needed for staff?  What should be the focus of that collaboration?  How can it best be offered?
Does this focus relate easily to the Core Competencies?  In what way?
Our Evidence for 2017-18
How will we know if we are making a difference?
How are we going to gather evidence of student learning related to our focus?
Evidence may be gathered on a teacher-by-teacher basis or on a school-wide basis.
Evidence may take the form of photo-stories, videos, quotes from focus groups/conversations, surveys, performance-based assessments, artifacts.  Ideally our evidence will be both qualitative and quantitative.  We will need to learn to analyze and communicate our evidence.
May 2018
As we sift through our practices to identify trends, we can see that Time and Patience are being used to focus on:
Building relationships and community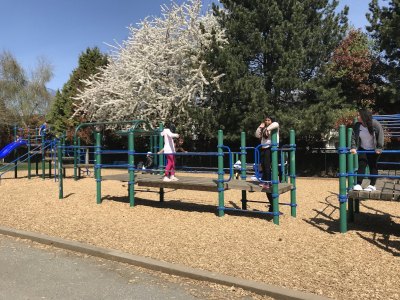 This is not outside play.  This is building relationships.
This is not basketball.  This is building relationships.
Being mindful
In Division 16, children are learning to be mindful through conscious simple breathing at circle time and transition time.  We are also learning that mindfulness takes time and patience. It is important to remind kids to use mindful breathing to help them manage their feelings, emotions and shift their own mind-body state. We have been learning many different ways to breath and allowing children to cultivate their own inner wisdom and strength.  When we teach children breathing exercises, we give them a life-long tool for managing their stress, calming down, feeling more relaxed and cultivating inner peace. 
Getting ready to learn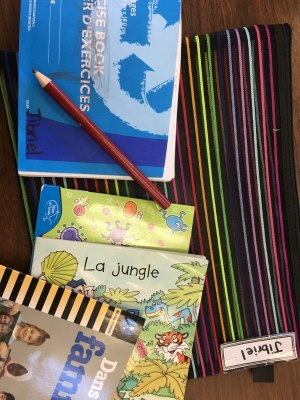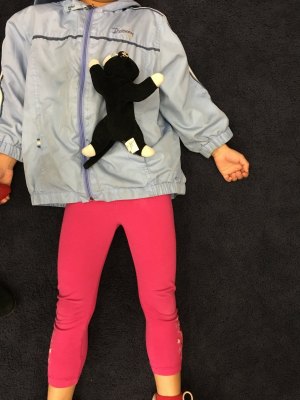 In order to be ready to learn, young (and not-so-young) students benefit from a time to relax after lunch - "le repos".​   Students might choose a stuffed animal from a basket and lay down with the animal on their stomachs.  The lights are off and relaxation music can be heard in the background.  After some calm and perhaps a little sleep, students are ready to learn and we enjoy more successful afternoons.  
Learning in a way that 'fits'
We are taking more time for learning, letting go of deadlines and content, being more creative and more joyful.  We are purposefully concentraing less on product and more on process and the big ideas.   We see evidence of deeper understanding.
June 2018
Results we have observed:
Strong communities in classrooms where time has been given to teach students strategies and skills to care and support each other, with students taking the initiative to solve problems themselves

. 
Student quotes:  "gives time to talk about problems that are happening outside the classroom"
"allows us to take time to discuss what's bothering us"
"helps us to get to know one another"
Students are appreciating, expecting, and using Mindfulness practices.  (

To a TTOC, "but it's brain break now!"

)

Students are beginning to advocate for themselves and their personal needs when they are given real choices in how, where, what and when to learn.  
Ongoing challenges and some hunches:
Many students still exhibit behaviours, self-regulation and social and emotional challenges which are interfering with their ability to reach learning potentials.  Our hunch is that we need both a school-wide and individual approach to supporting at-risk students.

Student autonomy, independence and self-confidence

Parents need support with redesigned curriculum, eportfolios, social media, screen time, SEL importance
Next Steps:
Work with Ellen Hsu-Kondratowski to update school-wide matrix to focus on respect, in the context of Core Competencies

Supporting students with additional needs – adopt a Firebird

Review and mentoring of Mindfulness strategies (learn to use Circle and Peace Table)

Collect data that tells us how we are doing